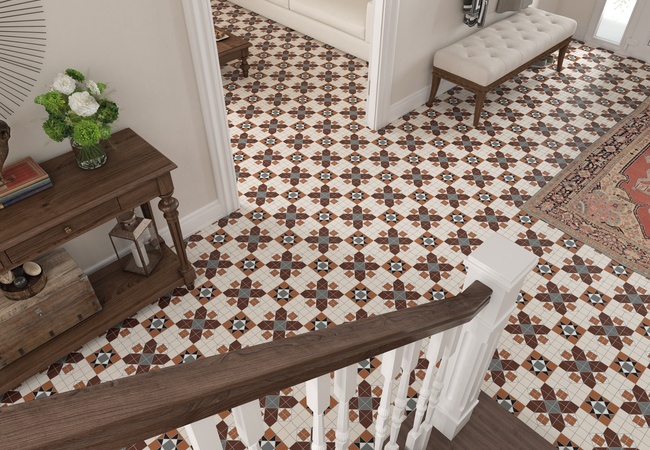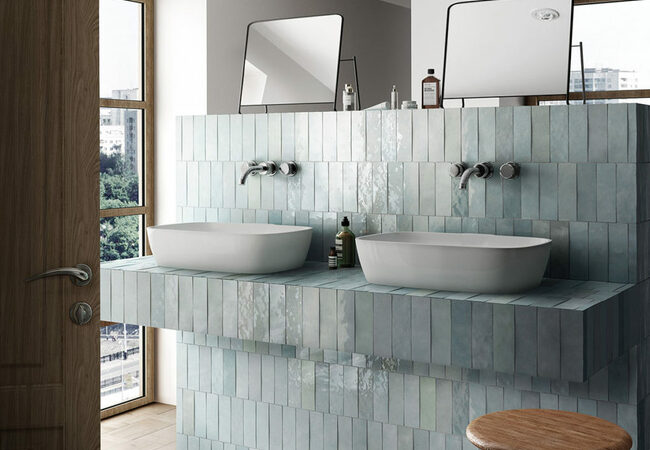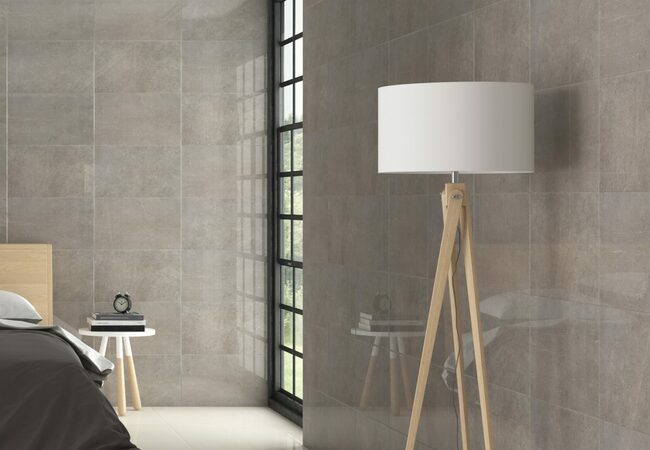 Added by Rocca Tiles
Over 1 year ago
Filed in Kitchen, Tips & Tricks, Bathroom
---
Tiling Tips & Tricks
When tiling shower trays
Be sure to tank before tiling shower trays, bath areas and wet rooms in order to make the area totally waterproof. This will ensure that future problems are avoided and those beautiful tiling fixtures are not ruined!
Make a small bathroom look bigger
Use light coloured plain tiles and keep the same colour on the wall and floor. You can always add colour with accessories and towels. Wall-mounted sinks and toilets give small bathrooms the illusion of more space and make the room easier to clean. Use wall-mounted cabinets and built-in alcoves for storage. Keep clutter to a minimum.
Retiling an old floor
When renovating, it can be extremely difficult (or just plain tedious!) to lift old tiles or vinyl flooring. However, you can tile directly onto the existing floor providing that it is secure and clean. Just prime first with an appropriate primer such as Platinum Acrylic Primer and away you go!
When drilling tiles
Put some masking tape over the spot that you want to drill. This is just to stop the bit skidding around, which it will do on the slippery surface of a tile. Don't use the hammer action of your drill, and be gentle. Don't push the drill into the tile, take your time and let the drill do the work. If the hole is for a screw that will go into a rawlplug, make the hole in the tile bigger than the hole in the wall, so that the rawlplug goes right into the wall and does not overlap the tile, otherwise you'll break it.
When framing alcoves in a shower
First, decide on a finished measurement and then build the alcove 20 to 40mm larger. Most tiles are 8 to 10mm thick, this allows for a little adjustment to allow for adhesive depth and to align everything with the grout joints. You can always make your shower alcoves smaller, but making them bigger is a much more detailed and labour-intensive process.
Decorating a new house with more than one bathroom
The choice of tiles can be mind-boggling especially when doing a new house with more than one bathroom. It is a good idea to keep it simple in ensuites, particularly in kids' rooms. Choose a plain white tile that won't date and brighten it with a mosaic border or a contrasting band of colour. White is timeless and you can change the look of the room simply and cheaply by changing accessories such as towels or plants.
Tiling of bath panels
If you are tiling the panel of a bath or boxing the whole bath, use good quality waterproof plywood. To gain access to the plumbing without having to use unsightly screws, cut a segment of ply and fix it to the panel using magnets. You can get these magnets in any D.I.Y. store. They are the type that are used for cupboards without handles and work in a push open/push close fashion. When you have the segment tiled, simply attach it to the main panel and grout the joint. If you ever need to gain access to the underside of the bath, simply remove the grout and push the panel open. You can replace the segment when finished and re-grout the joint.
Tiling over newly laid concrete/screed
Be patient when tiling over newly laid concrete/screed. Despite what your builder may tell you it is ALWAYS best practice to leave a minimum of 1 week per inch of concrete/screed to let it dry, otherwise, you may encounter problems with cracks and tiles lifting. Also, always use an acrylic primer and NEVER use PVA.
Preventing stress cracks transferring from the floor to a tile
CI matting can be used to prevent stress cracks transferring from the floor to a tile, particularly between joints on a plywood floor. This matting neutralises tensions and also has acoustic benefits; muffles the sound between upstairs and downstairs.
When tiling over uneven floors
Self-levelling compound is quick and easy to install and works a treat. Larsen self-levelling compound can even be used directly over floorboards where depth is a concern.
Measuring for tiles
Measure twice, buy once! Always allow for wastage when measuring for tiles and, whenever possible, get your tiler to measure for you. This will avoid running out of tiles when in the middle of a job and will ensure that all of your tiles are of the same batch.
Grubby grout
Got grubby grout? Grout staining is an age-old problem with tiles. To avoid this and to make your grout more water-resistant, seal with LTP Grout & Tile Protector.
Successful silicone sealing
However good your tiling, the gap at the bottom between the tiles and the bath, shower tray or kitchen worktop is the most vulnerable to water penetration. A good seal is vital to prevent leaks. Use a good quality silicone such as Sealocrete Silicone and clean the surface with methylated spirit. Apply a thick layer of silicone and use white spirit (not water) as a lubricant for fingers or tools when smoothing to prevent mould growth. Also, don't forget to seal all corners with silicone too.
Tiling onto plastered walls
It is never recommended to plaster a wall before tiling. Gypsum plaster does not react well with tile adhesive. However, if the wall is already plastered, use a good quality acrylic primer and flexible adhesive to fix the tiles. The ideal finish for wall tiling is sand/cement, plasterboard, green board or cement board.
Cleaning tiles
Don't be tempted to use harsh cleaners on tiles, as they can damage the tile. Most tiles simply need warm water or a mild detergent to clean them. Natural stones, such as marble, require sealants and pH neutral cleaners. There are specific products available to clean grout haze or builder's residue from tiles and no amount of scrubbing will remove this type of grime without the correct cleaner. LTP have a range of products suitable for every tile.
Selecting tiles
Take your time selecting your tile, especially when covering a large area. Remember that you will be looking at it for a long time! It is always advisable to bring a sample home and to look at it in the area that you want to put it. Look at it during the day and also at night to be sure that you are happy with the shades and tones before purchasing.
Choosing kitchen wall tiles
When choosing kitchen backsplash tiles, don't be tempted to match the tiles to the worktop. Choose a contrasting colour which will look more effective. Using the same colour as the worktop can look very bland. Also, don't be afraid to mix matt tiles with glossy surfaces and vice versa.
Bathroom design
Effective bathroom design should address all your needs. Think about the time you spend in the bathroom; are you always rushing in the morning? Consider installing a lighted, mirrored shaving niche in your shower to enable you to shower and shave in one go! This is also a great way of keeping shaving gear from cluttering up the sink area.